Are you actively seeking hotel jobs in Dubai? Look no further! Dubai, UAE, is renowned for its abundance of job opportunities, attracting individuals from all corners of the globe. With its diverse array of employment prospects, you may wonder what sets Dubai apart. The answer is simple: Dubai's job market demands the brightest and best individuals, making it a highly competitive landscape.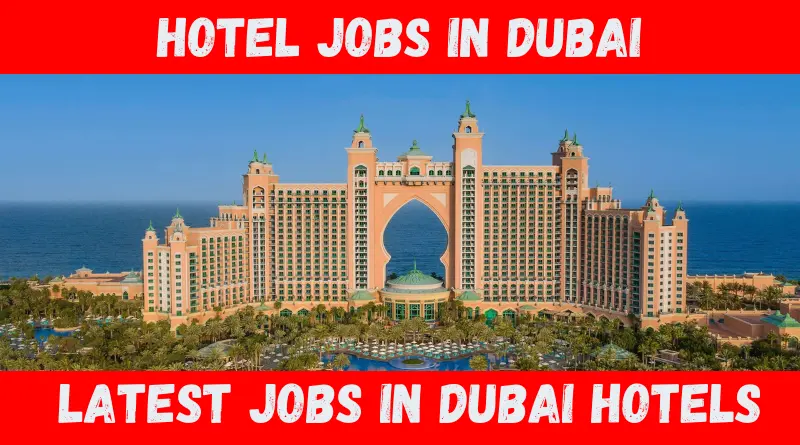 The Competitive Job Market in Dubai
Securing a job in Dubai is no easy feat, given the fiercely competitive job market. To increase your chances of success, thorough preparation is essential. Qualifications, experience, skills, and, most importantly, strong communication abilities, particularly in English, are critical factors to consider.
The Hotel Job Market in Dubai: A Booming Landscape
The abundance of hotels in Dubai creates a flourishing job market in the hospitality sector. Hotels are constantly seeking talented individuals who possess the right skills and passion for delivering exceptional guest experiences. From entry-level positions to managerial roles, Dubai's hotel industry caters to a diverse range of professionals.
Hotel Job Opportunities for All Levels of Expertise
Whether you are starting your career or looking to advance to higher positions, Dubai's hotel job market offers opportunities for individuals at all levels of expertise. Aspiring professionals can begin as room attendants, concierge, or waitstaff, gaining valuable experience and gradually climbing the ladder to more senior roles such as department managers or executive positions.
Thriving in Dubai's Hospitality Sector: Essential Skills and Qualifications
To excel in Dubai's hotel industry, specific skills and qualifications are highly valued. Fluency in English, both spoken and written, is of utmost importance due to the city's diverse international clientele. Additionally, customer service, problem-solving, and adaptability are essential traits that enable individuals to thrive in the fast-paced and dynamic environment of Dubai's luxury hotels.
Job Career in Sheraton Abu Dhabi (7 Nos.)
• Guest Service Agent
• Bellman
• Housekeeping Desk Coordinator
• Waiter/Waitress
• F&B Supervisor
• Hostess
• Bartender
Send CV Email: [email protected]
Job published on: 14th May 2023
Career in Sheraton Grand Hotel Dubai

1) Bartender
2) F&B Supervisor
3) Housekeeping Desk Coordinator
4) Hostess
5) Guest Service Agent
6) Bellman
7) Waiter/Waitress
Send CV Email: [email protected]
Job published on: 13th May 2023
Hotels Careers (2023) | 10+ Open Vacancies

Career level: Student/Intern
Employment type: Full Time
Minimum Work Experience: 1-2 Years
Minimum Education Level: High-School / Secondary
Is CV required? Yes
Benefits: ADD- VISA FREE + ACCOMMODATION + MEDICAL + TRANSPORTATION
Company Name: HOTEL INN
Company Size: 201-500
Phone Number: 0502764109
Email: [email protected]
Listed By: Employer
Job based at: Dubai, Sharjah, Ajman, Abu Dhabi, Fujairah, Ras ul Khaimah
Hotels Careers in 2023, including the latest walk-in interviews. which has announced multiple hotel jobs. These positions require an equivalent degree and relevant experience. Let's move forward and explore the rest of the details below.
1) Assistant Restaurant Manager (1 no.)
2) Assistant Restaurant Supervisors (4 nos.)
3) HR Clerk (1 no.)
4) Accountant (1 no.)
5) Cashier (5 no.)
6) Head Barista (1 no.)
7) Baristas (2 nos.)
8) Waitresses (6 nos.)
09) Purchase (1 no.)
10) Housekeeping Supervisor (1 no.)
11) Housekeeping Attendant (2 nos.)
12) Maintenance Technician (1 no.)
13) Laundry & Kitchen Technician (5 no.)
14) Telephone Operator(5 no.)
Job Location: Dubai, Sharjah, Abu Dhabi
Experience: Fresher and Experience
Candidate's Availability: Inside UAE
Interview Date:10th May – 18th May 2023
Interview Timing: 11:00 AM – 04:00 PM
Interview Location: Dubai Islamic Bank Same Building Block-C, Sharjah
Email CV: 0502764109