Immediate carpenter vacancies are being offered by BLUE ROSE CONSTRUCTION LTD in Canada. This company provides full-time permanent employment with health benefits. The job is located in Employer details H.M.A. Framing & RenovationLTD.
Carpenters are skilled professionals who play a crucial role in the construction industry. In Canada, carpenters are responsible for a wide range of tasks, including constructing and repairing frameworks, installing windows and doors, building roofs and decks, and crafting custom woodwork. They work on both residential and commercial projects, bringing blueprints to life.
The specific responsibilities of carpenters in Canada may vary depending on the project. They may need to read blueprints or plans to determine the required materials for each construction phase. Precise measuring and cutting of materials using tools like saws or drills is often necessary. It is also important for carpenters to adhere to safety regulations when operating heavy machinery or power tools.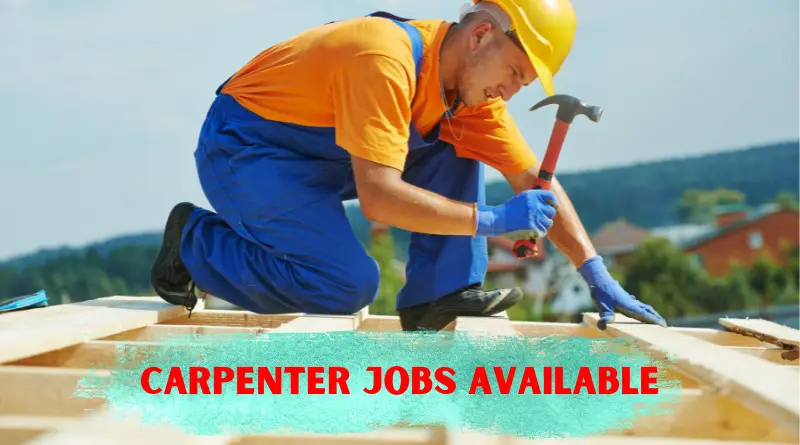 Job Details:
Carpenter
Salary:
Salary: $27per hour
Working hours: Approximately 30 hours per week (bi-weekly)
For more details about vacancies in Canada, please visit our website.
Required Qualifications:
Secondary (high) school graduation certificate
Proficient in spoken English
Experience:
2 years to less than 3 years
Responsibilities & Skills:
The carpenter is responsible for the following duties:
Read and interpret blueprints and sketches to determine specifications
Calculate requirements and follow provided drawings
Work in construction, renovation, and residential areas
Excellent communication skills
Effective interpersonal skills
Supervise a team of 5 to 10 workers
Survey building locations and levels, instruct apprentices, etc.
Fit and install windows, stairs, hardware, moldings, etc.
Use appropriate safety gear (hard hat, safety glasses, steel-toed safety boots)
Schedule and coordinate work on sites, estimate costs and materials
Measure, shape, and assemble wood and lightweight steel materials
Combine and attach wood alternatives and other materials.
Build foundations, install floor beams, and lay subflooring
Repair and renovate residences and wooden structures in mills or hospitals
Sustain industrial plant and establishment structures.
Erect walls and roof systems
Collaborate effectively with the team
Company-provided healthcare plans.
Eligibility for Applying:
Ideal candidates for carpenter vacancies in Canada are encouraged to apply. Please send us your latest CV, recent photographs, and details of your experience.
Email:[email protected]
Last date : 2023-06-18
Disclaimer: The provided information is for general purposes only.. The owner of the website will not be held liable for any errors in the information. Kindly be aware that this website does not offer job positions; it simply publishes jobs from various sources.