We are currently seeking an experienced and highly motivated Restaurant Manager to oversee our establishment in Canada. As a Restaurant Manager, you will be responsible for managing all aspects of the restaurant's daily operations, ensuring excellent customer service, and maximizing profitability. Your leadership skills, attention to detail, and ability to work in a fast-paced environment will be critical to the success of our restaurant.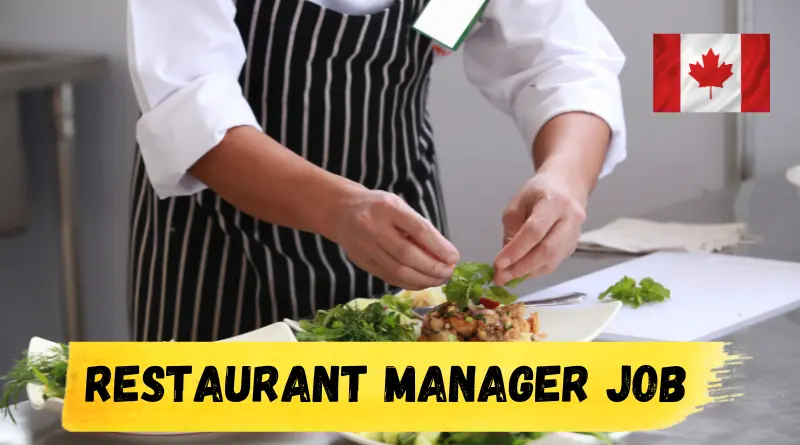 Restaurant Manager Job Available in Canada
| | |
| --- | --- |
| Company Name | Baan Lao Holdings Limited |
| Location | Canada |
| Education | Secondary (high) school graduation certificate |
| Experience | 3 years to less than 5 years |
| Salary | 27.00 to 31.00 $ / hourly (to be negotiated) 35 to 40 hours per week |
| Job Type | Permanent employment, Full time |
| Job Published | 16- May 2023 |
Responsibilities:
Manage daily operations by planning, organizing, directing, controlling, and evaluating activities.
Determine service offerings and implement operational procedures.
Maintain financial balance by handling cash, completing balance sheets, cash reports, and related forms.
Conduct performance reviews for staff.
Enforce provincial/territorial liquor legislation and regulations.
Organize and manage inventory.
Monitor revenues and adjust procedures and prices accordingly.
Ensure compliance with health and safety regulations.
Engage in discussions with clients to reach agreements regarding catering or facility utilization.
Establish and monitor staff work schedules and performance.
Address customer complaints or concerns.
Provide excellent customer service.
Recruit, train, and supervise staff.
Requirements:
Must have previous Restaurant Manager experience or similar role.
Possessing robust leadership and interpersonal abilities to efficiently oversee a diverse team.
Solid understanding of restaurant operations, including front-of-house and back-of-house functions.
Excellent customer service and communication skills.
Ability to work well under pressure and handle challenging situations with professionalism.
Familiarity with food safety regulations and optimal practices.
Proficiency in using restaurant management software and point-of-sale systems.
Strong financial analysis skills and business acumen.
Flexible availability for working hours, including weekends and evenings.
Valid food handling and responsible alcohol service certifications.
How to apply?
If you are a dedicated and passionate individual with a proven track record in restaurant management, we invite you to apply for this exciting opportunity. Join our team and contribute to the success of our thriving restaurant in Canada.
Kindly submit your resume and cover letter outlining your relevant experience. Only candidates shortlisted for an interview will be contacted.
Email :[email protected]
Note:
This website is a jobs and information portal. We provide authentic information to our users and conduct additional research. Please note that howtowb.com does not offer jobs directly; we only publish jobs sourced from newspapers and online authentic sources. We strive to ensure job accuracy but cannot guarantee it. Therefore, we do not take responsibility for job authenticity. Users are advised to contact the job provider at their own risk. Never make payments or share personal information on behalf of howtowb.com. Thank you.